The Sony PMW-F5 CineAlta Digital Cinema Camera features an 8.9 MP Super 35mm image sensor, capable of capturing 2K and HD resolution video via the camera's internal recorder. The ​Sony F5's imaging power is bolstered by exceptional exposure latitude, which is rated at 14 stops of dynamic range for truly film-like rendering of highlights and shadows.
The Sony F5 CineAlta camera incorporates high-speed SxS PRO+ memory card recording that allows the choice of 8-bit MPEG-2 HD422 at 50 Mbps, 10-bit XAVC 2K/HD at 100 Mbps and SR Codec 10-bit MPEG4 SStP at 220/440/880 Mbps. All formats can be recorded at a range of interlaced and progressive frame rates.
In addition, the optional AXS-R5 recorder enables 4K & 2K recording in 16-bit RAW. The AXS-R5 recorder also facilitates high speed frame rates of up to 240 fps in 2K and simultaneous RAW + on-board SxS recording. The recorder uses Sony's newly developed AXSM memory cards, which are compatible with an optional USB 3.0 reader (AXS-CR1). RAW files can be screened using Sony's free RAW Viewer software.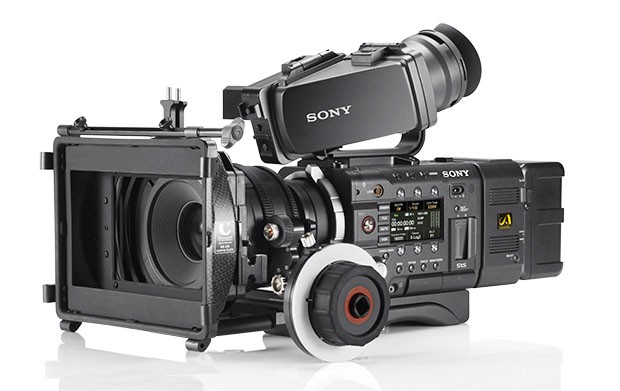 High speed 240 fps shooting
From stunts and explosions to a single raindrop – high-speed shooting at up to 240 frames per second with the F5 gives directors and DPs a powerful storytelling tool.
The camera also supports Slow and Quick (S&Q) motion for overcranking and undercranking, letting you alter the narrative by speeding up or slowing down the action in 1 fps increments.
You'll enjoy full quality at any frame rate, with no sacrifice in bit depth and no 'windowing' of the sensor. So there's no crop factor and no loss in angle of view.
Extraordinary latitude
Cinematographers tell their stories with light and shadow – and the ability to render tones from deepest shadows to brightest highlights is a crucial test of any digital camera.
The F5 excels with an impressive 14 stops of exposure latitude, bringing audiences more emotion, depth and detail in every frame.
DPs notice how the F5 holds remarkable detail in the highlights, together with extremely low noise in blacks and lowlights. The result? Graceful, ultra-natural contrast rendering in any scene.