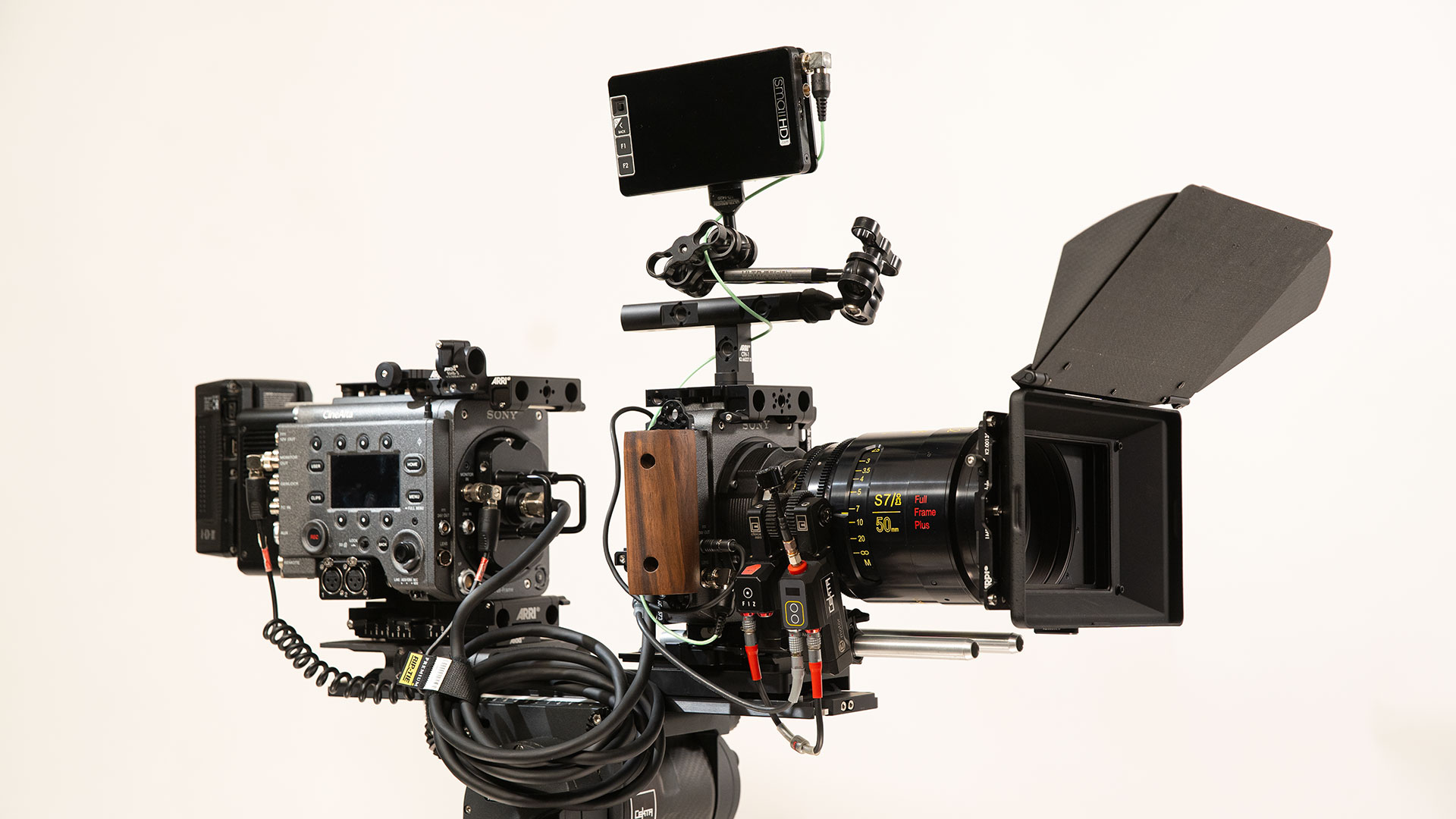 The new Sony VENICE camera brings professional cinematography to the next level. 6K sensor and 15 stops of dynamic range – 9 stops below and 6 stops above 18% grey – for beautiful images, with out of the box 4K 17:9, 3.8K 16:9 UHD capabilities and the option to upgrade to 6K 1.85:1, 6K 17:9, 5.7K, 6K 2.39:1 with firmware.
You get superb dynamic range, a wide colour gamut3 that exceeds BT.2020 colour space and this camera matches the performance of the F65 and F55.
The VENICE is a reliable partner for creativity with the ability to control via Wi-Fi. The extra shallow depth of field captures images that have the equivalent of ½ stop shallower than super 35mm.
Full frame sensor and wide range of lens compatibility to visualise the image of filmmakers
The camera combines a newly developed 36x24mm full-frame sensor and compatibility with a wide range of lenses, including anamorphic, Super 35mm and full-frame PL mount for a greater range of expressive freedom with shallow depth of field. The lens mount can also be changed to handle E-mount lenses for shooting situations that require smaller, lighter, wider and more characteristic lenses. User-selectable areas of the image sensor allow shooting in Super 35 mm 4 – perf. Sony's commitment to furthering image capture in key areas of dynamic range, large format aspect ratio and colour rendition. Sony's VENICE motion picture camera platform demonstrates the commitment to filmmakers to create every emotion in every frame, to all the camera to shoot 36mm widewith 6K resolution.
New colour management system and established workflow for flexible post-production
A new colour management system and wide colour gamut gives users more control and greater freedom to work with images during grading and post-production. VENICE also has more than 15 stops of latitude to handle challenging lighting situations from low-light to harsh sunlight.
VENICE achieves high quality and efficient file-based production through Sony's established 16-bit RAW/X-OCN and XAVC workflows using the portable memory recorder AXS-R7. VENICE is also compatible with current and upcoming hardware accessories for CineAlta cameras (DVF-EL200 Full HD OLED Viewfinder, AXS-R7 recorder, AXS-CR1 and AR1 card reader, AXS and SxS memory cards).
Intuitive design and refined functionality to support smooth on-site operation
VENICE has a fully modular and intuitive design with refined functionality to support smooth and efficient on-site operation. It is the film industry's first camera with a built-in 8-stage glass ND filter system, enabling to reduce the replacement work of the external ND filter and make shooting progress efficient. The camera is designed for easy operation with an intuitive control panel placed on the left and right sides of the cameras. A 24 V power supply input/output and Lemo connector allow use of many standard camera accessories and make use in harsh environments easier.
License options for individual production requirements
With VENICE, Sony is giving users the option to customise their camera by enabling the features needed, matched to their individual production requirements. Optional licenses will be available in permanent, monthly and weekly durations to expand the camera's capabilities with new features including 4K anamorphic and full frame, each sold separately.
High Performance, Proven Recording Formats
VENICE offers complete production flexibility. Internally, VENICE can support XAVC, ProRes or MPEG HD recording onto SxS memory card. Additionally, by using the AXS-R7 recorder, it can record 16 bit RAW or X-OCN (16-bit eXtended tonal range Original Camera Negative) onto AXS memory card.
XAVC
XAVC is the highest-performing implementation of H.264/AVC intra-frame coding. It supports 4K with superb efficiency and beautiful 10-bit pictures. Naturally, VENICE supports XAVC Class480, which is the highest bitrate and quality available.
Apple ProRes
Apple ProRes including ProRes 422 proxy formats are popular in postproduction, and are supported by VENICE. This means there's no need for transcoding; you can simply handle these formats directly from the camera.
RAW
This ultimate 16-bit linear RAW format preserves all the information captured in 4K, with 16 times more tonal values than 12-bit RAW.
X-OCN – 16-bit eXtended tonal range Original Camera Negative
Full 4K and 6K* resolution, with extraordinary colour reproduction, nicely suits Sony's third generation colour development, S-Gamut 3. In particular, 16-bit scene linear tonal gradation retains the camera's full dynamic range, with far greater capacity for visual expression than 10-bit or 12-bit digital formats.
16-bit X-OCN offers significant file size reduction, which make working with full resolution content from VENICE's 6K sensor far more practical in terms of file transfer times and storage requirements.
Simultaneous Recording for faster workflow
A key benefit of VENICE is simultaneous recording using two recording media. For example, a production could use RAW/X-OCN data recorded by AXS-R7 for online editing and also use XAVC, ProRes* or MPEG HD for offline editing without waiting for any file conversion. As VENICE can also record XAVC 4K and RAW / X-OCN* simultaneously, another option would be to use XAVC 4K for quick turnaround mainstream production while using simultaneously recording RAW / X-OCN as a future-proof archive suitable for the highest quality HDR applications.
VENICE supports onboard recording of MPEG HD (fixed FPS only) and HD ProRes Proxy* in XAVC 4K and XAVC QFHD onto SxS media.
Even without using AXS-R7, VENICE itself can record XAVC 4K and ProRes 422 Proxy* simultaneously. VENICE is designed to support both the highest quality imagery and high speed workflows.
VENICE with AXS-R7 supports both RAW and X-OCN recording of MPEG HD (fixed FPS only), HD ProRes*, XAVC 4K* and XAVC QFHD* onto SxS media.
The VENICE Extension System (CBK-3610XS) enables cabled separation of the VENICE camera body and image sensor block by up to 5.5m or 18 feet with no degradation in image quality.
The kit consists of a front panel cover, image sensor block case and a 2.7m (9 ft) cable with an additional 2.7m (9 ft) extension cable. (VENICE camera is not included.)
The Extension System also has an HD-SDI output and a 24V output for powering accessories such as lens servo motors and monitoring. Multiple screw holes on all surfaces make it easy to affix additional accessories and fit with a wide variety of rigs. The Extension System is fully compatible with all existing and future VENICE cameras upgraded to V3 or higher firmware.
For Sony Venice Menu Simulator – Click Here
Sony Venice Camera Specs
General
Power Requirements
DC12 V (11–17.0 V)
DC24 V (22–32.0 V)
Operating Temperature
0 ~ 40℃
Storage Temperature
-20℃–60℃
Mass
Approx. 3.9 kg (8 lb 9.6 oz) (excluding handle, VF attachment, bottom cover)
Dimensions: H x W x L
158 x 147 x 235 mm (6 1/4 x 5 7/8 x 9 3/8 inch) (excluding protrusions)
Power Consumption
Approx. 60 W
Camera
Imaging Device
35 mm full size, single-chip CMOS image sensor
Imaging Device Pixel Count
24.8 M (total)
Imaging Device Size
36.2 x 24.1 mm 43.5 mm Diagonal
Built-In ND Filters
Clear, 0.3 (1/2), 0.6 (1/4), 0.9 (1/8), 1.2 (1/16), 1.5 (1/32), 1.8 (1/64) 2.1 (1/128), 2.4 (1/256)
ISO Sensitivity
ISO 500, ISO 2500 (Dual Base ISO)
Lens Mount
PL Mount
E-mount (lever lock type, without supplied PL lens mount adaptor)
Latitude
15+ Stop
Select FPS
4K 2.39:1 1-120FPS, 4K 17:9 1-110FPS, 3.8K 16:9 1-60 FPS
4K 4:3 1-75 FPS, 4K 6:5 1-30 FPS
6K 2.39:1 1-90 FPS, 6K 17:9/1.85:1 1-72 FPS, 5.7K 16:9 1-30 FPS
6K 3:2 1-60 FPS
White Balance
2000–15000 Kelvin and Green/Magenta adjust, AWB
Gamma Curve
S-Log3
Recording
Recording Format (Video)
XAVC 4K Class 480: 23.98p, 24p, 25p, 29.97p
XAVC 4K Class 300: 23.98p, 24p, 25p, 29.97p, 50p, 59.94p
XAVC QFHD Class 480: 23.98p, 25p, 29.97p
XAVC QFHD Class 300: 23.98p, 25p, 29.97p, 50p, 59.94p
MPEG HD422 (1920 x 1080): 23.98p, 25p, 29.97p, 50i, 59.94i
HD ProRes 422HQ: 23.98p, 24p, 25p, 29.97p, 50p, 59.94p, 50i, 59.94i
HD ProRes 422: 23.98p, 24p, 25p, 29.97p, 50p, 59.94p, 50i, 59.94i
HD ProRes 422 Proxy: 23.98p, 24p, 25p, 29.97p, 50p, 59.94p, 50i, 59.94i
HD ProRes 4444: 23.98p, 24p, 25p, 29.97p
Recording Format (RAW/X-OCN ST/LT)
Required AXS-R7
6K 3:2 (6048 x 4032): 23.98p, 24p, 25p, 29.97p, 50p, 59.94p
6K 2.39:1 (6048 x 2534): 23.98p, 24p, 25p, 29.97p, 50p, 59.94p
6K 1.85:1 (6054 x 3272): 23.98p, 24p, 25p, 29.97p, 50p, 59.94p
6K 17:9 (6054 x 3192): 23.98p, 24p, 25p, 29.97p, 50p, 59.94p
5.7K 16:9 (5674 x 3192): 23.98p, 24p, 25p, 29.97p, 50p, 59.94p
4K 6:5 (4096 x 3432): 23.98p, 24p, 25p, 29.97p, 50p, 59.94p
4K 4:3 (4096 x 3024): 23.98p, 24p, 25p, 29.97p, 50p, 59.94p
4K 17:9 (4096 x 2160): 23.98p, 24p, 25p, 29.97p, 50p, 59.94p
4K 2.39:1: 23.98p, 24p, 25p, 29.97p, 50p, 59.94p
3.8K 16:9 (3840 x 2160): 23.98p, 24p, 25p, 29.97p, 50p, 59.94p
Recording Format (X-OCN XT)
Required AXS-R7
6K 3:2 (6048 x 4032): 23.98p, 24p, 25p, 29.97p
6K 2.39:1 (6048 x 2534): 23.98p, 24p, 25p, 29.97p, 50p, 59.94p
6K 1.85:1 (6054 x 3272): 23.98p, 24p, 25p, 29.97p, 50p
6K 17:9 (6054 x 3192): 23.98p, 24p, 25p, 29.97p, 50p
5.7K 16:9 (5674 x 3192): 23.98p, 24p, 25p, 29.97p, 50p
4K 6:5 (4096 x 3432): 23.98p, 24p, 25p, 29.97p, 50p, 59.94p
4K 4:3 (4096 x 3024): 23.98p, 24p, 25p, 29.97p, 50p, 59.94p
4K 17:9 (4096 x 2160): 23.98p, 24p, 25p, 29.97p, 50p, 59.94p
4K 2.39:1: 23.98p, 24p, 25p, 29.97p, 50p, 59.94p
3.8K 16:9 (3840 x 2160): 23.98p, 24p, 25p, 29.97p, 50p, 59.94p
Recording Format (Audio)
LPCM 4ch , 24-bit 48-kHz
Inputs/Outputs
DC Input
XLR-type 4pin (male)
Battery DC Input
Square-shaped 5pin connector
DC Output
12 V: Hirose 4 pin x 1
24 V: Fischer 3 pin x 2
SDI Output
BNC x 4, (12G, 3G, 1.5G-SDI)
HD MONI Output
BNC x 1 (1.5G-SDI)
HDMI Output
Type A x 1
VF
LEMO 26pin
Audio Input
XLR-type 5 pin (female) x 1 (LINE / AES/EBU / MIC / MIC + 48 V selectable)
Timecode Input
BNC x 1
Genlock Input
BNC x 1
AUX
LEMO 5 pin (female) x 1 (Timecode Output)
Remote
8 pin x 1
Lens
12 pin x 1
Lens Mount Hot Shoe
4 pin x 2, conforming to Cooke /i Intelligent Electronic Lens System
Network
RJ-45 type x 1, 10BASE-T, 100BASE-TX
USB
USB host, type-A x 1
Headphone Output
Stereo mini jack x 1
Speaker Output
Monoral
Media type
ExpressCard/34 slot x 2
SD card slot x 1