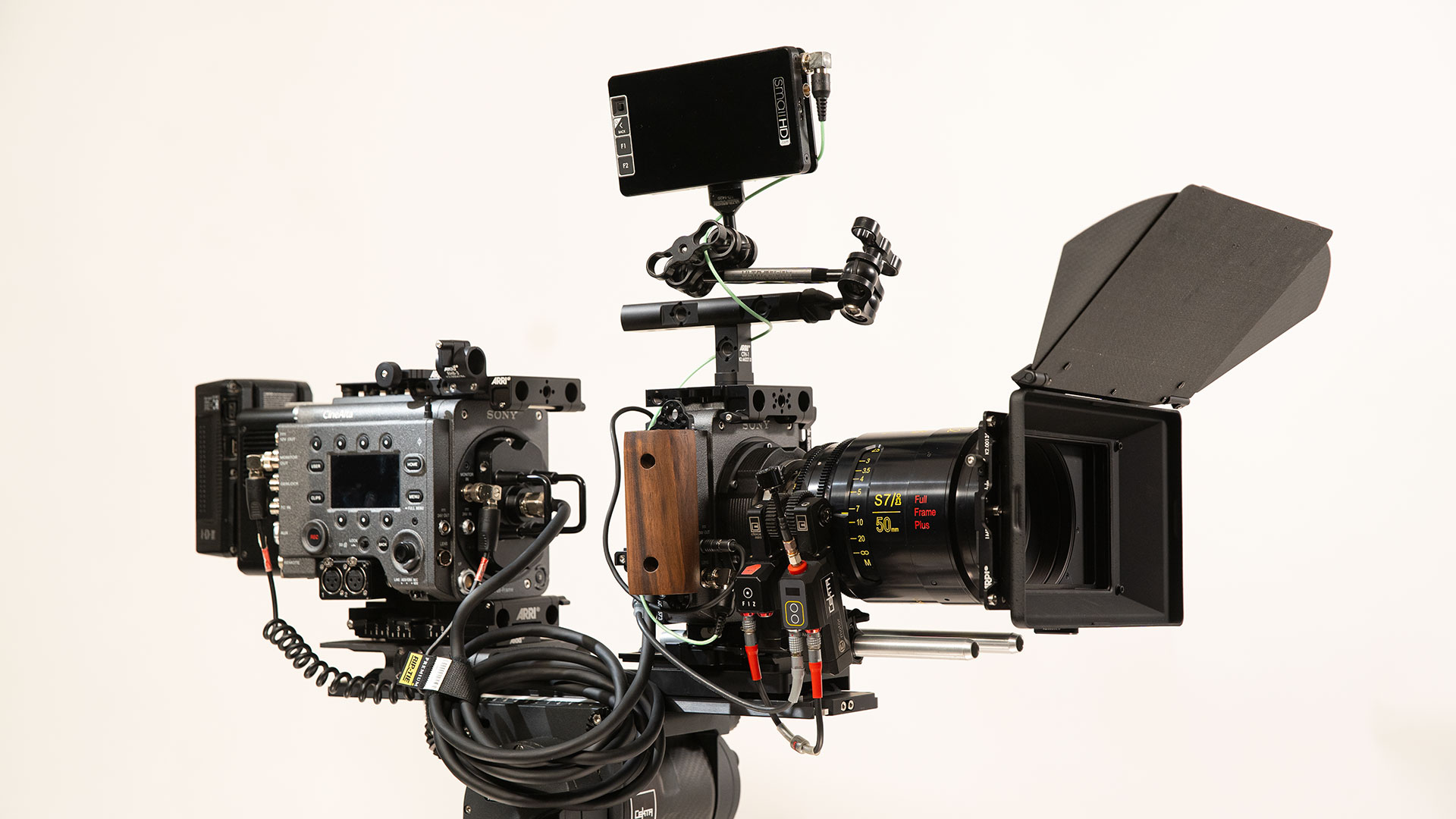 The VENICE Extension System (CBK-3610XS) enables cabled separation of the VENICE camera body and image sensor block by up to 5.5m or 18 feet with no degradation in image quality.
The kit consists of a front panel cover, image sensor block case and a 2.7m (9 ft) cable with an additional 2.7m (9 ft) extension cable. (VENICE camera is not included.)
The Extension System also has an HD-SDI output and a 24V output for powering accessories such as lens servo motors and monitoring. Multiple screw holes on all surfaces make it easy to affix additional accessories and fit with a wide variety of rigs. The Extension System is fully compatible with all existing and future VENICE cameras upgraded to V3 or higher firmware.
Sony Venice Camera Specs
General
Power Requirements
DC12 V (11–17.0 V)
DC24 V (22–32.0 V)
Operating Temperature
0 ~ 40℃
Storage Temperature
-20℃–60℃
Mass
Approx. 3.9 kg (8 lb 9.6 oz) (excluding handle, VF attachment, bottom cover)
Dimensions: H x W x L
158 x 147 x 235 mm (6 1/4 x 5 7/8 x 9 3/8 inch) (excluding protrusions)
Power Consumption
Approx. 60 W
Camera
Imaging Device
35 mm full size, single-chip CMOS image sensor
Imaging Device Pixel Count
24.8 M (total)
Imaging Device Size
36.2 x 24.1 mm 43.5 mm Diagonal
Built-In ND Filters
Clear, 0.3 (1/2), 0.6 (1/4), 0.9 (1/8), 1.2 (1/16), 1.5 (1/32), 1.8 (1/64) 2.1 (1/128), 2.4 (1/256)
ISO Sensitivity
ISO 500, ISO 2500 (Dual Base ISO)
Lens Mount
PL Mount
E-mount (lever lock type, without supplied PL lens mount adaptor)
Latitude
15+ Stop
Select FPS
4K 2.39:1 1-120FPS, 4K 17:9 1-110FPS, 3.8K 16:9 1-60 FPS
4K 4:3 1-75 FPS, 4K 6:5 1-30 FPS
6K 2.39:1 1-90 FPS, 6K 17:9/1.85:1 1-72 FPS, 5.7K 16:9 1-30 FPS
6K 3:2 1-60 FPS
White Balance
2000–15000 Kelvin and Green/Magenta adjust, AWB
Gamma Curve
S-Log3
Recording
Recording Format (Video)
XAVC 4K Class 480: 23.98p, 24p, 25p, 29.97p
XAVC 4K Class 300: 23.98p, 24p, 25p, 29.97p, 50p, 59.94p
XAVC QFHD Class 480: 23.98p, 25p, 29.97p
XAVC QFHD Class 300: 23.98p, 25p, 29.97p, 50p, 59.94p
MPEG HD422 (1920 x 1080): 23.98p, 25p, 29.97p, 50i, 59.94i
HD ProRes 422HQ: 23.98p, 24p, 25p, 29.97p, 50p, 59.94p, 50i, 59.94i
HD ProRes 422: 23.98p, 24p, 25p, 29.97p, 50p, 59.94p, 50i, 59.94i
HD ProRes 422 Proxy: 23.98p, 24p, 25p, 29.97p, 50p, 59.94p, 50i, 59.94i
HD ProRes 4444: 23.98p, 24p, 25p, 29.97p
Recording Format (RAW/X-OCN) Required AXS-R7
RAW SQ:
4K 17:9 (4096 x 2160): 23.98p, 24p, 25p, 29.97p, 50p, 59.94p
3.8K 16:9 (3840 x 2160): 23.98p, 24p, 25p, 29.97p, 50p, 59.94p
X-OCN ST/LT:
6K 3:2 (6048 x 4032): 23.98p, 24p, 25p
6K 2.39:1 (6048 x 2534): 23.98p, 24p, 25p, 29.97p
6K 1.85:1 (6054 x 3272): 23.98p, 24p, 25p, 29.97p
6K 17:9 (6054 x 3192): 23.98p, 24p, 25p, 29.97p
5.7K 16:9 (5674 x 3192): 23.98p, 24p, 25p, 29.97p
4K 6:5 (4096 x 3432): 23.98p, 24p, 25p, 29.97p
4K 4:3 (4096 x 3024): 23.98p, 24p, 25p, 29.97p
4K 17:9 (4096 x 2160): 23.98p, 24p, 25p, 29.97p, 50p, 59.94p
4K 2.39:1: 23.98p, 24p, 25p, 29.97p, 50p, 59.94p
3.8K 16:9 (3840 x 2160): 23.98p, 24p, 25p, 29.97p, 50p, 59.94p
Recording Format (Audio)
LPCM 4ch , 24-bit 48-kHz
Inputs/Outputs
DC Input
XLR-type 4pin (male)
Battery DC Input
Square-shaped 5pin connector
DC Output
12 V: Hirose 4 pin x 1
24 V: Fischer 3 pin x 2
SDI Output
BNC x 4, (12G, 3G, 1.5G-SDI)
HD MONI Output
BNC x 1 (1.5G-SDI)
HDMI Output
Type A x 1
VF
LEMO 26pin
Audio Input
XLR-type 5 pin (female) x 1 (LINE / AES/EBU / MIC / MIC + 48 V selectable)
Timecode Input
BNC x 1
Genlock Input
BNC x 1
AUX
LEMO 5 pin (female) x 1 (Timecode Output)
Remote
8 pin x 1
Lens
12 pin x 1
Lens Mount Hot Shoe
4 pin x 2, conforming to Cooke /i Intelligent Electronic Lens System
Network
RJ-45 type x 1, 10BASE-T, 100BASE-TX
USB
USB host, type-A x 1
Headphone Output
Stereo mini jack x 1
Speaker Output
Monoral
Media type
ExpressCard/34 slot x 2
SD card slot x 1