PROAIM Spark 17″ Video DSLR Camera Slider Extendable Double Travel Distance on Tripod Track Dolly Rail Slider.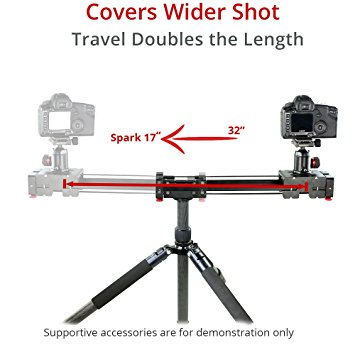 COMPACT AND PORTABLE 17′ CAMERA SLIDER covers double travel distance of 32″ with Belt-driven system which expands sliding range and makes it ideal for travel.
SMOOTH AND VERSATILE video slider ensures incredibly precise and inaudible movements, no matter where you shoot.
INTEGRATED MECHANICAL LOCK helps to keep the DSLR camera slider on a static position.
WORKS PERFECTLY ON GROUND AND TRIPOD BOTH
HIGH GRADE ALUMINIUM Rail Slider with Carry Bag ensures 100% satisfaction Guarantee.