DJI Ronin 2 Professional Combo & Ready GS + Pro Arm Kit. Powerful
Ronin 2 exists to let filmakers capture the scene they see in their mind. Upgraded high torque motors allow it to support a wider range of cameras resist high winds and G-forces caused when mounte to as car and keep it moving.
Whether its a simple DSLR or a professional camera with cinema grade glass with all the accessories mounted, Ronin 2 will stabilise the build.
Higher Torque, More Power, Same Precision
With up to eight times more powerful motors than previous iterations, Ronin 2 can withstand sustained speeds of over 75mph with camera builds as heavy as 30lbs. DJI increased power without sacrificing control. With encoded motors and extreme precision, the same 0.02° of accuracy remains.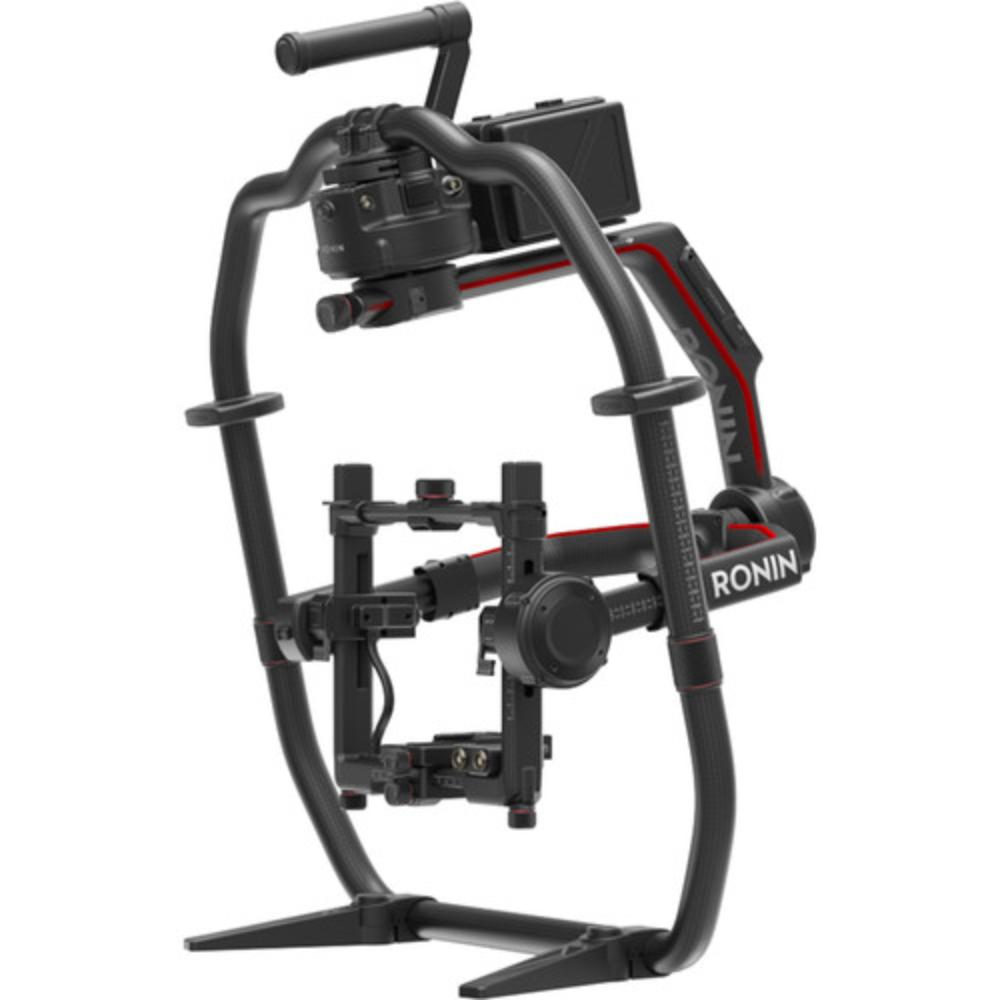 Built-In Functions
Operation Modes; Underslung Mode, Upright Mode, Briefcase
Mode
Handheld, Car Mount, Aerial, Tripod, & Steadicam Mode
Built-in, independent IMU module
DJI Advanced 32-Bit ARM Processor
DJI Specialized Gimbal Drive Motors with Encoders
Dual Battery System
Bluetooth Module
D-Bus Receiver Supported
2.4 GHz/5.8 GHz Receiver
Temperature Sensors
Built-in Touch Panel
Built-in GPS
USB Type-C Connection
Power and Video Signal through Slip Ring
Mechanical and Electrical Characteristics:
Working Current
Static current: 300 mA (@22.8 V)
Dynamic current: 500 mA (@22.8 V)
Locked motor current: Max 15 A (@22.8 V)
Run Time
8 hours
2.5 hours (when powering gimbal, camera and accessories at the same time)
Operating Temperature
-4 degF – 122degF (-20 degC – 50 degC)
Weight
Including handle bar: 12 lb (5.5 kg)
Excluding handle bar: 9 lb (4.2 kg)
Gimbal Dimensions
Excluding handle bar: 350 mm (W) x 416 mm (D) x 530
mm (H)
Including handle bar: 630 mm (W) x 416 mm (D) x 720 mm (H)
Peripheral:
Camera Tray Dimensions
Maximum depth from the center of gravity on
camera base plate: 245 mm
Maximum height measured from top of the camera base plate: 165 mm
Maximum width: 180 mm
Accessory Power Connections
14.4 V x 4 Camera Cage (Combined 8 A),
12.6 V x 2 Pan Motor (Combined 4 A), 12.6 V x1 P-Tap (8 A)
GCU Input Power
Intelligent Battery: 4280 mAh-22.8 V
Connections
2.4 GHz/5.8 GHz Remote Control, Bluetooth 4.0, USB Type-C
PC Assistant Software Requirements
Windows 7 or above; Mac OS X 10.11 or
above
Mobile Assistant Software Requirements
iOS 9 or above; Android 4.4 or above
Working Performance:
Load Weight (Reference Value)
30 lbs (13.6 kg)
Angular Vibration Range
plus/ minus 0.02 deg
Maximum Controlled Rotation Speed
Pan axis: 400 deg/s
Tilt axis: 360 deg/s
Roll axis: 360 deg/s
Mechanical Endpoint Range
Pan axis control: 360 deg continuous rotation
Tilt axis control: plus/ minus 135 deg
Roll axis control: plus/ minus 220 deg
Controlled Rotation Range
Pan axis control: 360 deg continuous rotation
Tilt axis control: +45 deg to -135 deg
Roll axis control: plus/ minus 45 deg
Compatible Cameras
RED Dragon, ARRI Alexa Mini, Blackmagic URSA Mini, Canon C300, Sony FS7
| | |
| --- | --- |
| Payload | Up to 13.5kg |
| Assembled Weight | 4.5kg |
| Material | 1000D Cordura Pack |
| | Aluminium CNC Frame |