Teradek Bolt 1000 3G-SDI/HDMI Receiver
This is a Bolt 1000 Receiver which will work with a Bolt 1000 Transmitter. This Receiver can output either 3G-SDI or HDMI video.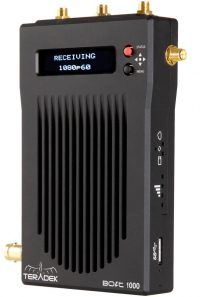 Complete Bolt Solution with Antenna Array, Battery Plate and Protective Utility Case
Wirelessly transmit visually lossless 1080p60 Video/Audio up to 1000 ft
> 0.001 seconds latency
Rapid Reconnect: Reconnect now instantaneous once back in range
Built In HDMI/SDI Converter
Real-Time Frequency Adjustment
USB 3.0 Ingest into Computer or DIT Cart
Multicast up to 4 Receivers
support metadata, timecode, and start/stop flags from many camera manufacturers
Sidekick II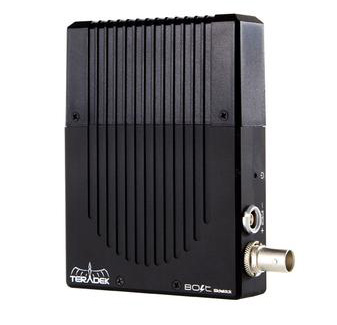 Sidekick II allows you to receive a Bolt video feed from any 500, 1000 or 3000 model. It suppots 20 MHz Channels when paired with the Bolt 3000, and has a 300ft range. The Sidekick II also features an SDI Output with a 2-Pin Power Connector. The Sidekick II is lightweight and compact.
Lightweight HD-SDI Receiver
SDI Ouput with 2 Pin Power Connector
Supports 20 MHz channels when paired with Bolt 3000
300 Ft Range
Compatible with Bolt 500, 1000, 3000
Supports 20 MHz channels when paired with Bolt 3000
Supports Timecode and Start/Stop Flags
Built-In Test Pattern Generator
Super Lightweight and Compact